Are you an early career professional who wants to connect with other parks and recreation professionals to expand your knowledge and develop a framework for career advancement?
Are you a mid-level professional who wants to make connections to enhance your skill sets for your current position and the position you aspire to achieve?
Are you a seasoned professional or retiree who wants to give back to the profession, develop future leaders, and explore new ways to connect to your own agency's team?
Then the MRPA Mentorship Program is for you!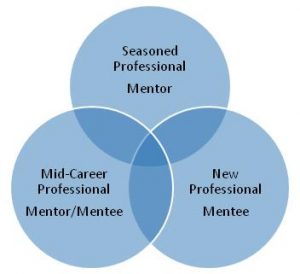 Mentorship Program Mission:
To provide MRPA members with a formal mentorship program which fosters mutual career development through education, service and networking opportunities with committed industry professionals.
The MRPA Mentorship Program:
The purpose of the mentorship program is for both the mentors and mentees to give and grow in the process by developing special partnerships based on a commitment to common goals and expectations, as well as mutual trust and respect. Early career, mid-career, and seasoned professionals will be partnered in triads to strengthen knowledge and skills, provide invaluable networking opportunities and enhance the personal and professional growth of participants at all career levels. Mentors and mentees will begin their partnership at the Annual Conference and continue their involvement throughout the year, hopefully building a relationship that will continue long after the year concludes.
The Role of the Mentor:
Mentors encourage and advise emerging recreation professionals by sharing their own experiences and knowledge of the recreation profession. Successful mentors will help foster their mentees' knowledge and guide them to local and national resources and contacts. Mid-career participants will mentor the new professional as well as be mentored by the seasoned professional.
The Role of the Mentee:
The benefit of being a mentee is building relationships with colleagues who can give insight to the recreation profession. As a mentee, you will have someone to go to with questions and concerns who will provide support and guidance. Your mentor is a great networking contact and someone who can help guide you as you develop your career as a recreation professional.
The Process:
If you are interested in having a mentor or being a mentor please submit the application to the MRPA Executive Director.
Once we have made the mentor matches we will determine the path forward.
MRPA Mentorship Program Application
All mentors and mentees must be MRPA professional members and have at least part time status at current employer.